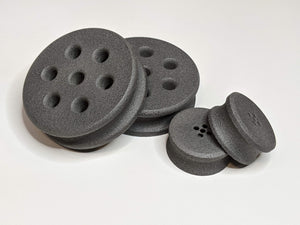 Custom SLS Flywheels - 1 Pair
Need flywheels printed? Tired of noisy, rough FDM prints? My SLS flywheels are a great alternative to expensive machined wheels and low-quality FDM wheels. Pricing is a flat $10/pair.
Note that our equipment is more accurate than typical home printers and wheels may fit looser than expected. We do not recommend printing wheels for brushed motors as they tend to have more balance issues than brushless wheels, but we'll give it a shot if you'd like to try. For best results with brushed motors, the hole for the shaft should be 1.9mm in the model. 
To order, simply upload your file - STL, OBJ, and 3MF are all supported. We review all files before printing, so don't try to be slick and sneak in something that isn't a flywheel. Need more than one pair of wheels? Add this product to your cart as many times as you want.
Typical lead time is one week, but can be up to two depending on the status of the print queue.